Don't let your outdated or rundown living room decor embarrass you to your family, friends, and guests. By knowing how to highlight your living room's architecture through color, furniture, and style, you can create a space that represents you and your family well.
homeandgardeningguide.com collected 18 examples of how architecture, color, furniture, and placement can create an incredible space for you, your family, and your guests to come together.
Living Room Architecture and Decor
Hiring an interior decorator to makeover your living room can cost as much – if not more – than the intended remodel. With a few ideas and examples, become your own interior decorator making your living room architecture stand out with a decor that fits your and your family's personality.
The following are 18 examples of what you can create with some paint, fixtures, and furniture:
1)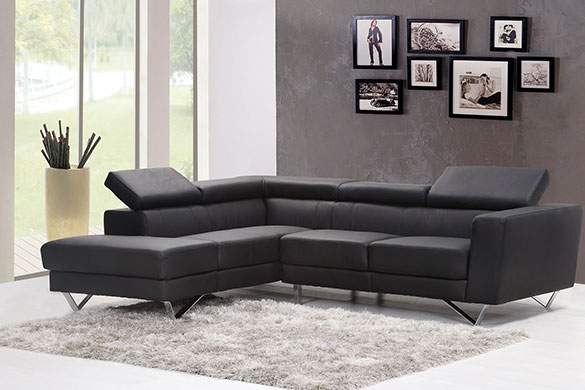 This is an example of how an accent wall can add significant depth to a modern living room with sleek furniture. Notice how the raised sectional sofa and absence of curtains create an illusion of more space.
Tip: Establish a budget before you begin a living room remodel. Furniture can get very expensive quickly. You may have to do this in parts.
2)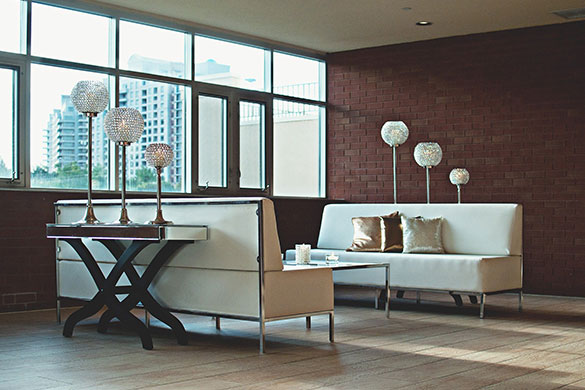 Here you have a contemporary take on seating and fixtures. This furniture sits well on the hardwood flooring while contrasting with the darker brick walls.
Tip: When arranging your furniture, walk around the living room. You'll gain a better perspective for the final placement of both fixtures and furniture.
3)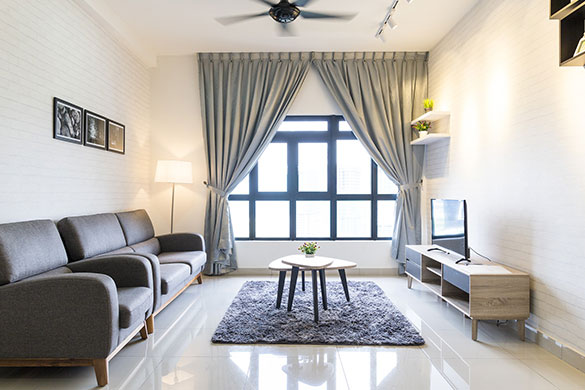 If your brick walls are too dark, paint them. Take note of how the rug and tiered coffee table tie this modern living room together atop white granite flooring.
Tip: Floating shelves offer clean, unobtrusive space for plants, pictures, or decorations.
4)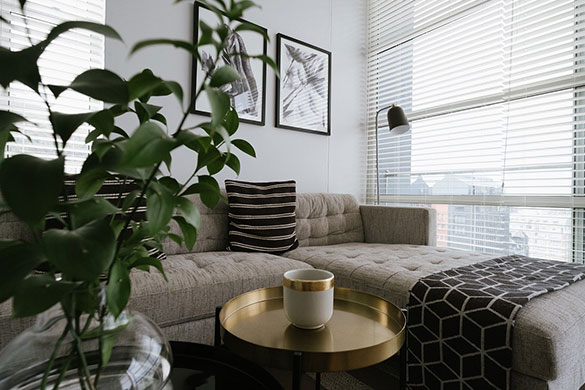 Even when your space is limited, you can still create a comfortable and simple living room. Sectional sofas allow you to fit more sitting space into the smallest spaces.
Tip: The addition of a plant or cut flowers to your living room can provide a burst of nature and color to nearly any decor.
5)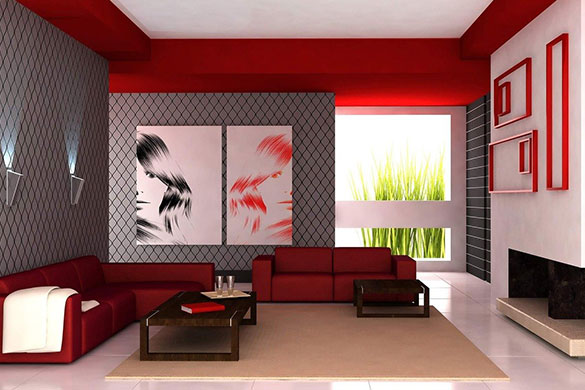 Here we have a sleek setting with a touch of modern that utilizes the architecture of the living room to highlight the ceiling while bringing the furniture and decor together.
Tip: Use and attempt to highlight sources of natural lighting. Natural light makes your living room brighter and can make it seem larger.
6)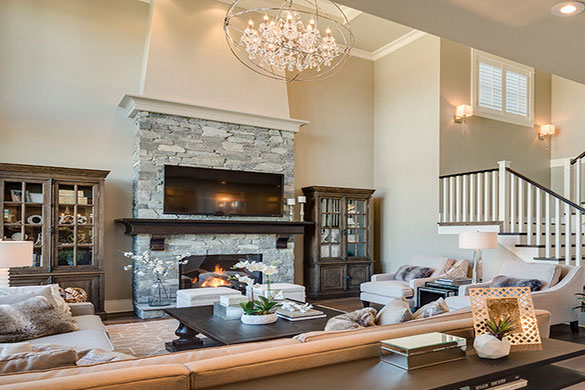 If you have the luxury of a fireplace, you can build an atmosphere that screams "cozy." In this living room, there are several seating alternatives arranged to keep everyone engaged with each other while being taken in by the fireplace and comfortable setting.
Tip: In large open spaces, a long or sectional sofa can be strategically placed to separate one area from another.
7)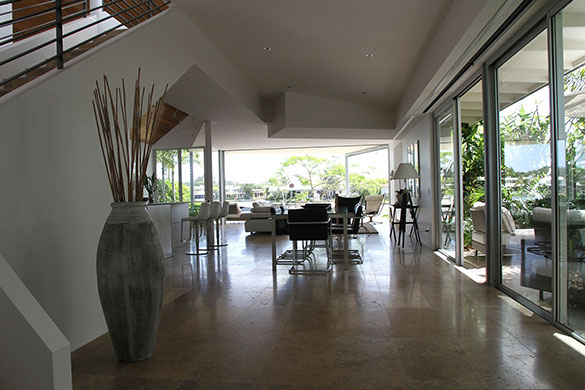 This open floor plan is an excellent example of how floor-to-ceiling windows and creative architecture can make your space seem wider and longer. Note how the dining space and bar seating flow into the living room, taking you right out to a natural setting.
Tip: The use of sliding walls, completely retractable curtains, or no curtains at all helps floor-to-ceiling windows create the illusion of having more space.
8)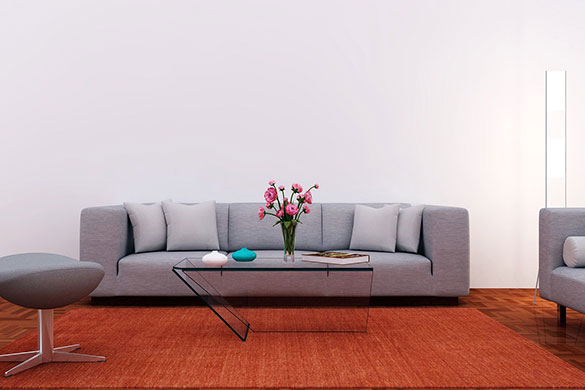 Simple and bright. This arrangement of modern seating on a rug that blends with the hardwood flooring creates an inviting atmosphere without the need to add a multitude of fixtures.
Tip: When looking for furniture, visit furniture stores, furniture outlets, Craig's list, yard sales, and talk to your friends and family. The more options you have, the more likely you will find the perfect furniture.
9)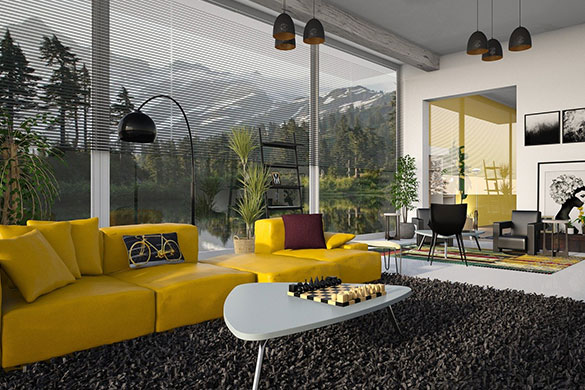 In this high-contrast setting, the living room's bright and spacious architecture lends a hand to creating a comfortable and modern space.
Tip: You can use rugs to separate seating areas and create alternate atmospheres in the same room.
10)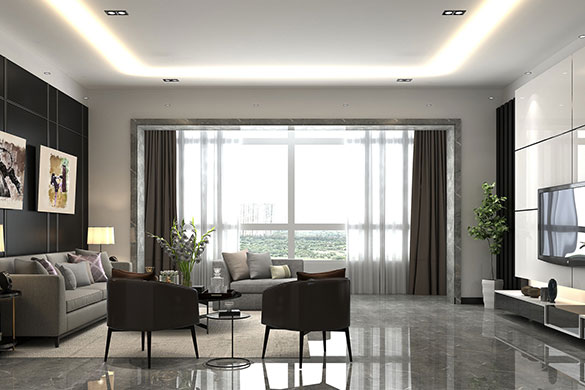 Here is an amazing example of how natural and artificial lighting can work in tandem to highlight a living room's architecture and multiple seating options.
Tip: Offer seating options in your living room that fulfill different necessities.
11)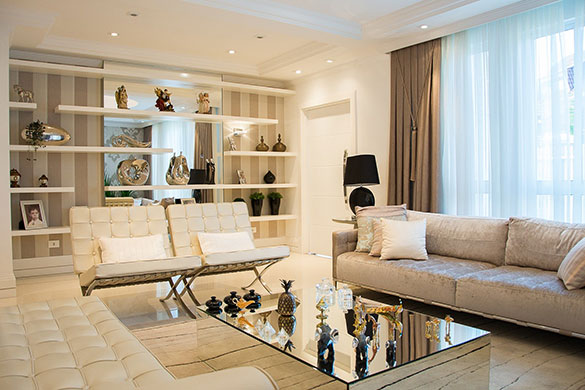 You can use your living room to tell a story or many stories. Besides the intimate seating arrangement, the natural and artificial lighting work to highlight this room's decor. Take note of the mirror behind the floating shelves and how it creates an illusion of more space.
Tip: Collections, trinkets, and figurines can go from beautiful accents to a cluttered disaster very quickly. Use these items sparingly and with purpose.
12)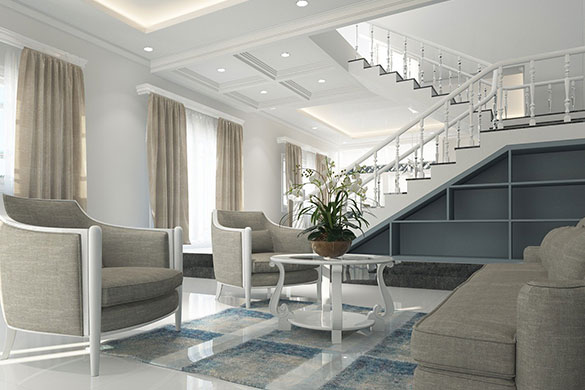 Everything about this neoclassical living room screams "relax and enjoy yourself." These cool tones come to life with natural lighting and both direct and indirect ceiling lighting.
Tip: Avoid using tall or dense centerpieces between your living room's seating options. Everyone should have an unobstructed view of one another.
13)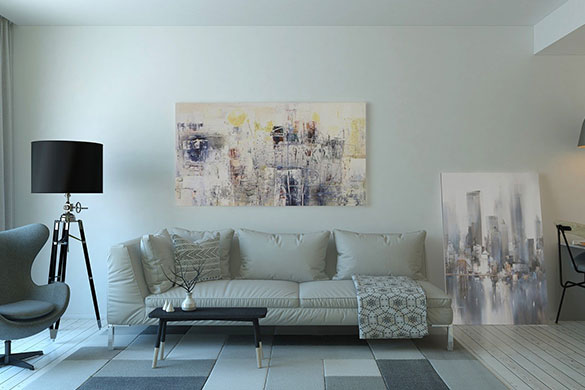 This living room in an open floor plan provides seating options and beautifully selected art that perfectly blends the room's colors. Notice how the raised furniture creates a sense of more space.
Tip: Consider upholstery to update and give new life to old furniture before discarding or replacing it.
14)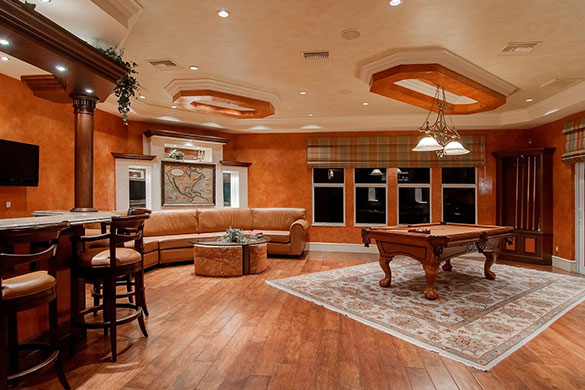 The architecture of this living room provides a fluid transition to a recreation and lounge feature smartly lit with direct and indirect lighting. Note how the rug contains the entertainment area independent without isolating it.
Tip: Decorative rugs placed in high traffic areas will help you preserve the finish on your hardwood floors.
15)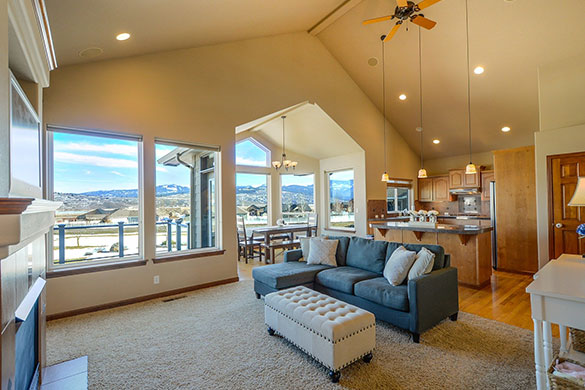 This living room has a lot going for it. With vaulted ceilings, oversized windows, transitional flooring and simple yet modern furniture, comfortable may be a severe understatement.
Tip: Depending on the climate of your region, vaulted ceilings can make it difficult to maintain a regulated temperature in the room. Ceiling fans or other smartly placed air movers can help correct this.
16)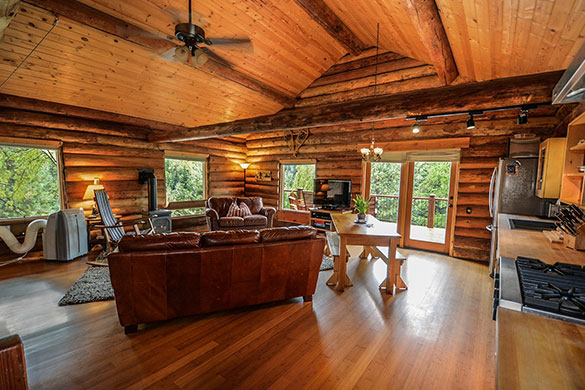 A blend of rustic fixtures and leather furniture provide a charming atmosphere in this log cabin's living room.
Tip: Unique fixtures and furniture can often be found at roadside shops near resorts, forests, and reservations. Depending on your style, you may be surprised at what you can find.
17)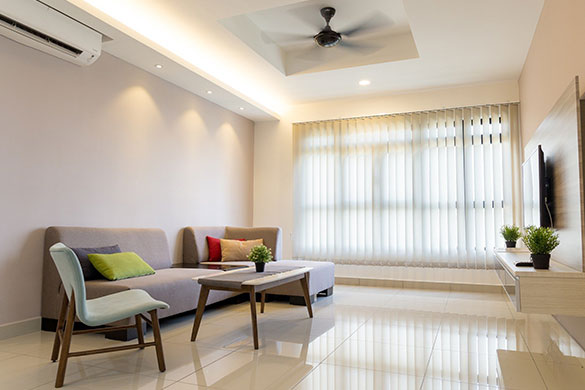 This simple configuration with sleek furniture and modern fixtures highlights the outstanding architecture of this living room. Note the placement of recessed lighting in conjunction with natural lighting turning the marble flooring into a space-magnifying mirror of the room.
Tip: Just because you have space available doesn't mean it has to be filled. Sometimes, the absence of decor is the best decor.
18)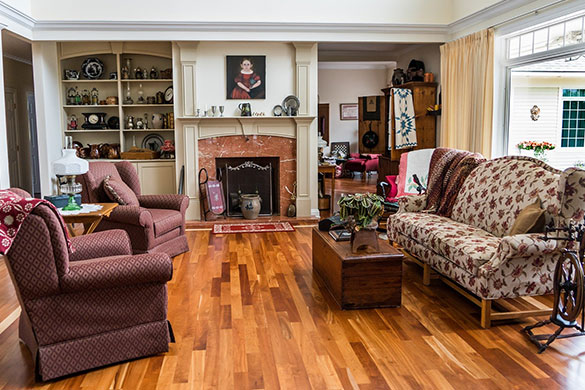 This living room conveys a cozy western atmosphere with its hardwood flooring, natural lighting, and furniture placement that takes all eyes to the fireplace.
Tip: Always find the "sweet spot" between style and comfort. Don't settle for something just because it looks good. Uncomfortable furniture should never make its way into your living room.
Living Room Architecture Ideas
In this article, you discovered 18 examples of how your living room's architecture can be used with color, furniture, and fixture placement to better reflect you and your family.
By using your natural preferences to style, color, and comfort, you can create a living room as basic or as eclectic as you desire.
When you allow your furniture and decor to get old and outdated, it can leave you with a sense of embarrassment or may send the wrong impression to guests and loved ones.
Sources:
contractors.america.edu/interior-design/
berkeleyparentsnetwork.org/recommend/home/upholsterer
advertising.utexas.edu/tapr/guide-decorating-your-first-place
Visit https://www.homeandgardeningguide.com/decorating/living-room/ for more living room articles, resources, and how-to tips.