Looking to give your home a more stately appearance with a tree-lined driveway? Knowing which trees to plant along your driveway will help create a spectacular colonnade while increasing your home's curb appeal.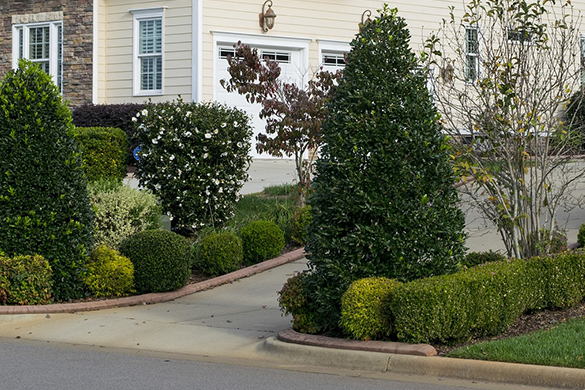 homeandgardeningguide.com gathered essential driveway preparation and tree species information about planting trees along your driveway.
Preparation for a Tree Lined Driveway
Before digging the first hole to plant trees along your driveway, you must take steps to protect your driveway from invasive buckling roots. Installing a root barrier will keep tree roots from growing under your driveway, expanding, and buckling the concrete or pavement above. Consider the following when installing a root barrier:
Dig a Trench – Dig a 6 to 10-inch wide by 3-foot deep trench along both sides of your driveway (end to end).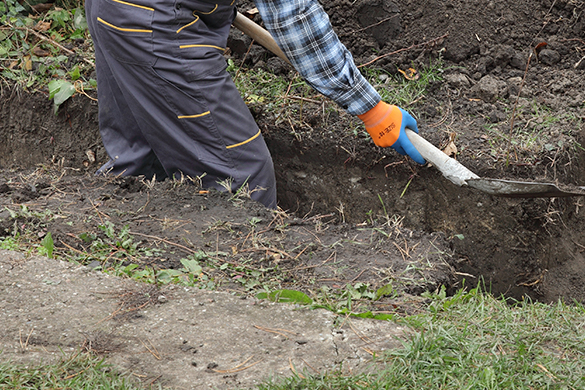 Tip: A mechanical trench digger can make the hole faster and narrower. You can rent a trench digger from your local home and garden center.
Insert the Barrier – (For a panel barrier) Slide the first panel into the trench, making sure the top rests 1 inch above the ground (this keeps roots from trying to grow over the barrier). Then place subsequent panels in the barrier, overlapping each other by 1 to 2 inches or interlocking them.
(For a plastic/HDPE barrier) Roll out and cut the barrier to the appropriate length. Again, insert the barrier so the top rests 1 inch above the ground.
Tip: Plastic or HDPE (High-Density Polyethylene) root barrier thicknesses should be between 40 mil and 100 mil. This product is waterproof and puncture resistant. It will not rot, mildew, rust, splinter, or crack.
Fill the Trench – Backfill one-third of the trench with dirt. Pour water into the trench to compact the dirt (this increases the barrier's effectiveness), then add more dirt and pour water into the trench again. Add more dirt to fill the trench to grade level when the water has soaked in.
Repeat these steps on both sides of your driveway to thoroughly protect it from invasive tree roots.
Tree Selection
Base your tree species selection and spacing on the tree's projected mature size. Typically, you want to plant a tree far away from a driveway, but with a root barrier installed, you can plant your trees considerably closer. Consider the following tree species:
Leyland Cypress (Cupressus × leylandii) – This is a popular landscape and privacy tree with a broad to tapering form. This evergreen's lush, dark green foliage provides exceptional scenery along a driveway. This species grows up to 70 feet high and up to a 15-foot spread (USDA zones 6 to 10).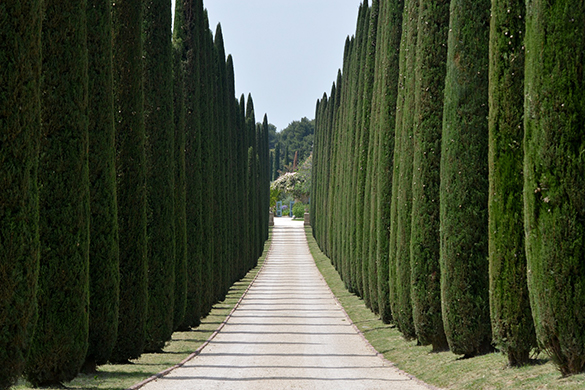 Emerald Green Arborvitae (Thuja occidentalis 'Smaragd') – This evergreen has bright green foliage spreading in small, flat fans. The tree grows in a narrow pyramidal shape up to 14 feet high and a 4-foot spread (USDA zones 2 to 7).
Crape Myrtle (Lagerstroemia) – This species is one of the more colorful colonnade trees, boasting bright blooms and thriving in sunny, warm conditions. The species is drought-tolerant and can grow more than 15 feet high with an equivalent spread (USDA zones 7 to 9).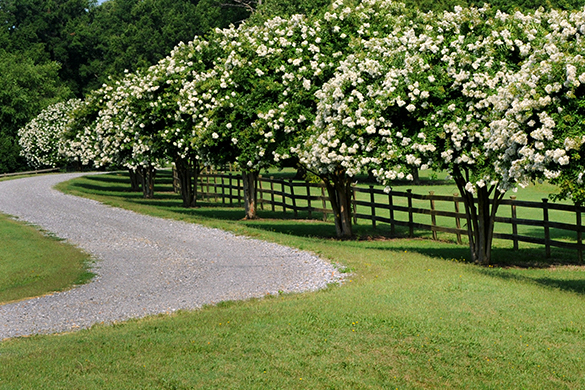 Flowering crabapples (Malus) – Line your driveway with color. This tree with larger varieties (40 feet tall with an equivalent spread) and smaller ones (15 to 20 feet tall and wide). Blooms can come in white, light pink, and magenta shades and last for about 5 weeks in spring (USDA zones 4 to 8).
Paper Birch (Betula papyrifera) – Named after its thin, white bark, the paper birch has a mature height of 50 to 70 feet with a 35-foot spread (USDA zones 2 to 7).
Note: This tree turns bright yellow in autumn.
Ginkgo (Ginkgo biloba) – This deciduous shade tree has unique, fan-shaped leaves and reaches a height of 80 feet with a 25 to 35-foot spread (USDA zones 4 to 9).
Tip: Select male trees since the species' females drop fruit, creating an inconvenient mess.
Red Maple (Acer rubrum) – The leaves, stems, and flowers of this species change with the seasons making them an exceptional choice for your colonnade. Red Maples grow to 40 to 60 feet in height, with a 40-foot spread (USDA zones 3 to 9).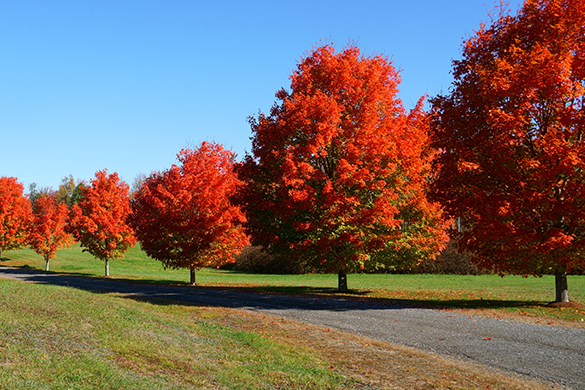 Tree Planting and Spacing
Getting your new tree off to a healthy start will help it mature to its full size and ensure it will provide environmental, economic, and social benefits throughout its lifetime. Tree health and longevity are significantly impacted by how they are planted. Follow these steps to properly plant your driveway trees:
1. The Hole – Dig a shallow, broad planting hole. Holes should be 2 to 3 times wider than the root ball but only as deep as the root ball. Spacing should be about 1-1/2 times the mature tree spread.
Tip: If you want the trees to form an arch over the driveway, they should be the same distance across from each other as their mature spread.
2. The Root Ball – If wrapped, remove any coverings from the root ball and trunk to facilitate free root growth.
Tip: Inspect the tree's root ball for circling roots, straightening, cutting, or removing them.
3. Put the Tree in the Hole – When placing and adjusting the tree in the hole, maneuver it by the root ball, not the trunk.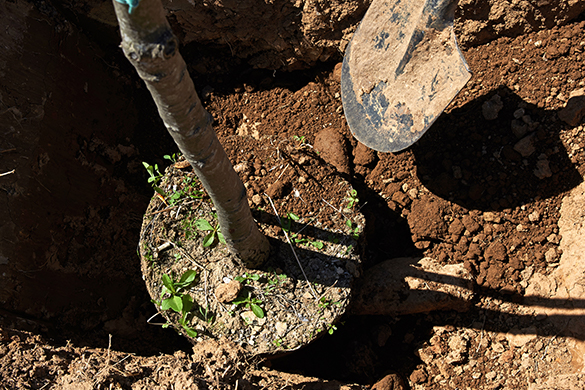 Tip: The "trunk flare" is where the tree's trunk expands and becomes roots at the tree's base. Ensure the trunk flare is partially visible after the tree is planted.
4. Right the Tree – Straighten the tree in the hole before filling it.
Tip: If the planted tree tries to lean, stake it until the roots hold it securely in place (4 to 6 weeks).
5. Fill Your Hole – Fill the hole gently but firmly. Pack soil around the base of the root ball to stabilize it, watering as you fill.
6. Mulch Your Tree – Place a 3-inch layer of mulch around the tree. However, do not pile mulch against the trunk (it creates opportunities for insect infestation and disease).
Mulching is one of the most beneficial practices a homeowner can use for better tree health. Mulches are applied to the soil surface to maintain moisture and improve soil conditions.
Driveway Tree Pruning
Tree pruning activities should take place in late fall (once your trees are dormant or in late winter (before their growing season) for best results. Consider the following when pruning trees along your drive path:
Prune for Visibility – Ideally, a colonnade tree's profile should be thin enough to clearly see between the trees, allowing ample airflow and eliminating hiding spots for anyone with bad intentions.
Prune for Safety – Be cautious of any branches extending or drooping over the driveway. Prune them back to avoid vehicle damage or driveway blockage if they fall.
Raise the Canopy – Prune lower branches to create the effect of a taller canopy and increase visibility between the trees.
Thin the Canopy – Remove crowded branches or ones that rub against each other. This allows more sun and air into the canopy while reducing the risk of blowdown or wind snap in severe weather conditions.
Disease and Damage – Prune all diseased or damaged branches any time of the year.
Tip: Trees that overhang driveways and streets must be pruned high enough to provide vehicle clearance.
Tree Lined Driveway
In this article, you discovered information and tips on planting a colonnade along your driveway, which tree species to plant, and how to keep roots from buckling your driveway.
With proper preparation and the right tree species, you can transform your simple driveway into a stunning one, boosting your home's charm and curb appeal.
Improperly installing trees along your driveway can result in buckling concrete, costly tree removal, and extensive concrete repairs.
Sources:
treesaregood.org/treeowner/plantingatree
extension.psu.edu/using-trees-and-shrubs-for-privacy-and-wind-screening
plants.ces.ncsu.edu/plants/acer-rubrum/
edis.ifas.ufl.edu/publication/ST671
burke.ces.ncsu.edu/2020/06/donnas-plant-of-the-month-emerald-green-arborvitae/
extension.uga.edu/publications/detail.html?number=C944
extension.colostate.edu/topic-areas/yard-garden/flowering-crabapple-trees-7-424/
naturalresources.extension.iastate.edu/forestry/iowa_trees/trees/paper_birch.html
ucmp.berkeley.edu/seedplants/ginkgoales/ginkgo.html
Visit https://www.homeandgardeningguide.com/gardening-landscaping/trees/ for more tree planting and care articles, resources, DIY, and how-to tips.