Without the best ideas and knowing if converting your garage is worth the money, you may make a costly mistake. Having clever conversion ideas, knowing the impact on your home value, and knowing how to convert your garage into a functional space can save you from costly permitting, land disturbance and construction fees.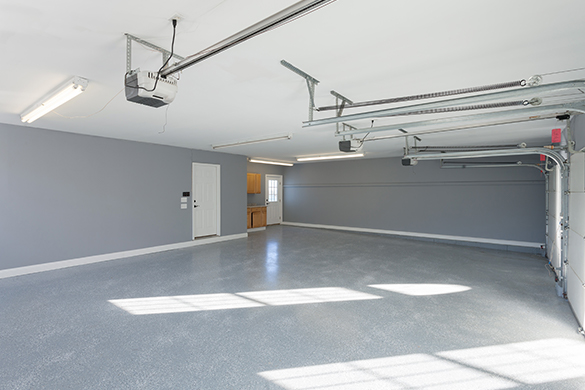 homeandgardeningguide.com gathered the following information, ideas, and tips on converting your garage into a living or workspace.
Is It a Good Idea to Convert Your Garage?
Yes and no. A garage conversion can alleviate the pressures a growing family faces by moving specific activities to that designated space. However, builders, designers, and inspectors agree that converting your garage into a living space will not add significant value to your home.
Tip: A garage conversion is typically not a good idea if you're planning to sell your home in the next few years.
Note: Before embarking on any remodeling project, research local ordinances and consult your HOA to make sure there are no restrictions on altering your garage's use.
Is It Cheaper to Convert a Garage or Build an Extension?
While building and construction costs vary based on your location and plans, you can expect a garage remodel to cost a mere fraction of what you'd spend to build a home addition from the ground up.
Garage Conversion Ideas
One of the greatest things about converting your garage is the extra space you have to work with (in a way that's relatively fast, unobtrusive, and inexpensive). Properly converting a garage is hardly fast or cheap; doing the job correctly can easily cost thousands of dollars in materials and upgrades and may take weeks to complete. Consider the following garage conversion ideas:
1. Workshop Conversion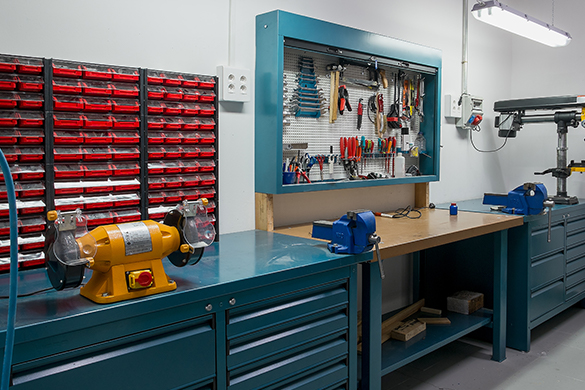 Convert your garage into a functional workshop by first completely clearing out the garage. An empty garage lets you plan what you need and where you need it. Lay out cabinets, counters, shelves, drawers, pegboards, and bins for an optimized workshop with a place for everything and zero clutter.
Step 1 – Sketch the layout for each workshop wall
Step 2 – Completely empty the garage
Step 3 – Refinish the flooring or install new flooring
Step 4 – Level, Mount, and Hang wall and base cabinets
Step 5 – Install countertops
Step 6 – Level, Mount, and Hang shelves
Step 7 – Mount your pegboards
Step 8 – Move your tools, equipment, and supplies into their new space
Tip: You will need an open floor plan to safely operate larger machines like circular or miter saws, and you should reserve storage space for raw materials like lumber and pipes.
2. Gym/Fitness Center Conversion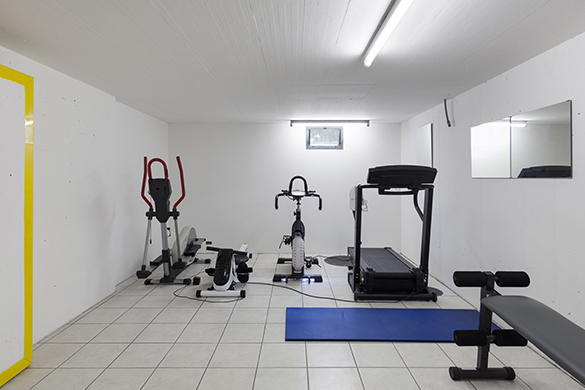 It is quite common that garage spaces are converted into a home fitness center. The "home gym" has increased in popularity with the recent social distancing policies and public distress over the COVID-19 pandemic. A garage can be converted into a home fitness center by:
Step 1 – Sketch the fitness center layout
Step 2 – Clear out the garage
Step 3 – Insulate and finish the walls
Step 4 – Determine what type of flooring you want (hardwood, padded, etc.)
Step 5 – Install heating, cooling, and air circulation options
Step 6 – Hang cabinets and place racks for equipment storage
Step 7 – Increase the room's lighting
Step 8 – Invest in quality equipment
Tip: Hang mirrors strategically around the fitness center to watch your progress and make the room feel larger.
3. Home Office Conversion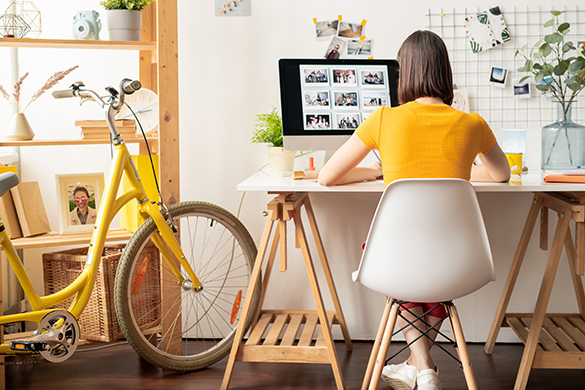 If you want to save space and add a home office to your home, your garage is the answer. Since garages are enclosed and developed spaces, they can serve as an ideal area to install your home office. Consider the following steps:
Step 1 – Sketch the office layout
Step 2 – Clear out and thoroughly clean the garage
Step 3 – Insulate and finish the walls (a fresh coat of paint will work wonders)
Step 4 – Determine what type of flooring you want (hardwood, carpet, tile, etc.)
Step 5 – Add or adjust electrical outlets (you may need an electrician for this)
Step 6 – Install heating, cooling, and ventilation options
Step 7 – Verify wi-fi, hardwired, and landline connections
Step 8 – Install appropriate lighting (ambient, reading, video, etc.)
Step 9 – Arrange desks, cabinets, shelving units, etc.
Tip: Requirements for your office size, equipment, and layout will depend mostly on your profession and what you need to efficiently meet your goals.
What Permission or Permit Do I Need to Convert My Garage?
Planning permission and building or construction permits are not usually required for a simple garage conversion, providing the work is internal and does not involve enlarging or changing the building's footprint. If you intend to convert a garage into a separate house or housing unit (regardless of who will occupy it), then planning permission and permits may be required, no matter what work is involved.
Garage Conversion
In this article, you discovered information, ideas, and tips to help you convert your garage into a practical workshop, gym, or office space.
Converting your garage will allow you to move specific activities into a newly appropriated space, allowing you and your family to feel less restricted or cramped.
Ignoring your converted garage's potential can leave you paying for expensive expansions or additions, contractors, and building or land disturbance permits.
Sources:
magazine.columbia.edu/article/designing-your-home-working-home
housingworksri.org/Learning-Center/Learning-Center-Overview/Accessory-Dwelling-Units-ADU/Garage-ConversionType
cfsms.org/index-993.html
health.clevelandclinic.org/how-to-create-a-home-gym-youll-actually-use/
Visit https://www.homeandgardeningguide.com/improvement/garage-conversion/ for more garage conversion articles, resources and tips.