Prevent catastrophic flooding damages and costly clean-up from your water heater's malfunction. Knowing what should be done to maintain your water heater in top working condition will help you get the most from it without it causing a flooding event.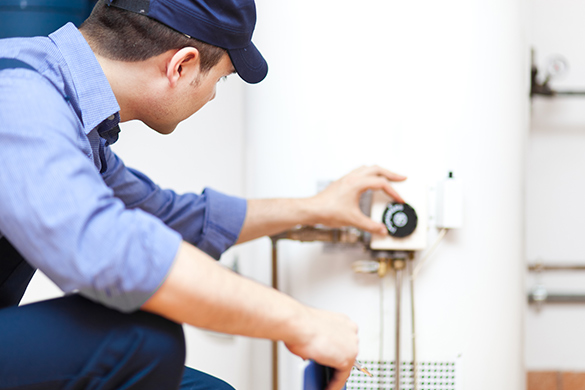 homeandgardeningguide.com gathered the following information and tips on how to properly maintain your home's water heater, preventing its premature failure.
Water Heater Maintenance Tips
The average home's water heater's lifespan is 13 years. Some units may only last two or three years, while others can last 20. You can significantly extend your water heater's lifespan by knowing what contributes to its failure and performing regular maintenance. Consider including the following in your home's maintenance routine:
1. Check the Pressure Relief Valve
The pressure relief valve is an essential safety feature that releases excess pressure from the water heater tank. To check if your relief valve is functioning correctly, lift the valve handle for a few seconds to allow a small amount of water to flow. If water continues flowing or the valve doesn't release water, it may need to be replaced.

2. Drain the Tank
With time, sediment can build up in the tank's bottom, reducing the water heater's efficiency and potentially causing damage. To remove built-up sediment, drain the tank once a year by turning off the heater's power or gas, attaching a garden hose to the drain valve, and opening the valve to allow the "hot" water to flow.
Note: Draining water and sediment from your water heater can take 20 to 60 minutes, depending on the tank's size. Be careful not to damage or break the drain valve when you open and close it. When all the water has drained from the tank, turn the cold water valve at the top of the tank on to thoroughly flush out any residual sediment.
3. Inspect the Sacrificial Anode Rod
The sacrificial anode rod is a water heater component that helps prevent corrosion in the appliance's tank. Check the anode rod annually to see if it requires replacement. It should be replaced if it's less than ½ inch thick or heavily corroded.
Note: The sacrificial anode is an essential component of your water heater. It's a long metal rod made of magnesium or aluminum which extends through the tank's interior. It works by attracting iron, limestone, or other mineral particles present in the water through an electrochemical process and corrodes instead of the tank.
4. Check the Temperature Setting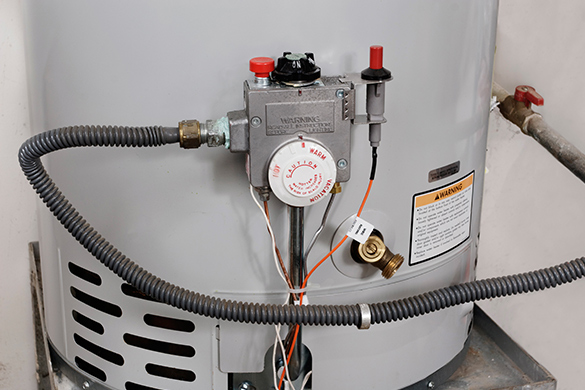 Set the water heater's temperature to 120° Fahrenheit to prevent scalding injuries and reduce energy consumption. If the temperature is set higher than this, it can also cause the tank to deteriorate faster and shorten the water heater's lifespan.
Emergency Tip: In case of a scalding accident, cool the burn with cool or lukewarm running water for 20 to 30 minutes (don't use ice, iced water, creams, or greasy substances like Vaseline or butter). Remove any clothing or jewelry near the burnt area (don't try to remove anything stuck to the burned skin). Call 9-1-1 for emergency assistance or get to an emergency medical center as quickly as possible.
5. Test the Thermostat
Check the water heater's thermostat to ensure it's functioning correctly. You can do this by turning the thermostat up or down and listening for the water heater to turn on or off. If you don't hear anything, the thermostat may need to be replaced.
6. Inspect the Unit's Connections
Check the water heater's water and gas connections to ensure they're tight and free of leaks. Turn off the water heater's power or gas if you detect any leaks, and call a professional plumber to fix the issue.
7. Keep the Area around the Water Heater Clean
Ensure the area around the water heater is clean and free from debris (which can obstruct airflow and cause the water heater to work harder than necessary). Clear any combustible materials away from the heater to reduce fire risks.
8. Keep Water Temperature Settings Low
The higher the temperature, the faster sediment will accumulate. Every 20° Fahrenheit increase in water temperature doubles the chemical action causing rust and corrosion.
Tip: Keep the water temperature as low as possible. The typical "hot" tap water temperature is 120° Fahrenheit.
9. Watch for Rust and Corrosion
Leaks can cause water heaters to quickly rust from the outside, preventing drains and pressure valves from properly functioning.
Tip: Check all plumbing connections for leaks and repair or replace them as necessary.
Maintaining Your Water Heater
In this article, you have discovered the water heater maintenance tips to keep your home's water heater at its peak operating condition.
Understanding what needs to be done to avoid a water heater malfunction or burst will help you keep it in excellent condition and prevent leaks and potential floods.
Improperly maintaining your home's water heater will expose you to unexpected malfunctions and potential flooding when your home's water heater bursts.
Sources:
com.ohio.gov/divisions-and-programs/industrial-compliance/boilers/guides-and-resources/residential-water-heater-safety
neo.ne.gov/info/neq/neq-archive/2018-12-dec/dec2018-00.html
labor.maryland.gov/labor/safety/boilhw.shtml
opic.texas.gov/news/water-heaters/
nhsinform.scot/illnesses-and-conditions/injuries/skin-injuries/burns-and-scalds
Visit https://www.homeandgardeningguide.com/repairs/appliance/ for more home appliance articles, resources, and how-to tips.