Avoid injury or burning down your home when using a space heater to adjust a room's temperature. Being aware of space heater safety practices will help keep you and your loved ones safe and warm during cold times.
homeandgardeningguide.com assembled the following space heater information and safety tips to help you avoid severe personal injury or catastrophic fire damage to your home.
Types of Electric Space Heaters
As temperatures drop, you may be ready to pull out the old space heater (or get a new one). The overall intention of these heaters is to temporarily warm a single room or space within your home where your central heating may not be maintaining a comfortable or desired temperature.
Electric space heaters come in all shapes and sizes. Here are some primary types of heating devices or systems you may see in use at any given time: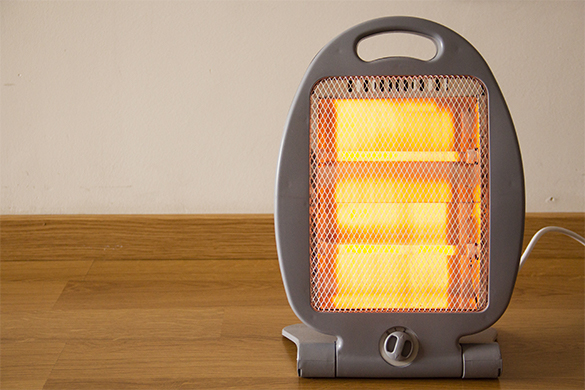 Electric Space Heaters – An electric space heater is a mobile heating device designed to focus heat in a single room or small area. They work by expelling hot air via a fan, which naturally rises and forces cooler air to the floor.
Electric Floor Heaters – Electric radiant floors typically consist of electric heating cables built directly into the floor and are among the safest heating systems.
Electric Baseboard Heaters – Electric baseboard heaters are long, narrow heating devices that run along the bottom of walls. Inside the heater's aluminum housing is a metal heating element.
Electric Heat Pumps – Heat pumps can be used to heat and cool a home. A heat pump can also be used to heat water.
Electric Fireplaces – An electric fireplace is a heating element that looks similar to a traditional wood-burning or gas fireplace but does not require venting or combustible substance.
Electric Fan Heaters – Fan heaters are essentially electric hot air fans. These heaters are small, portable, and practical heating devices.
Electric Infrared Heaters – Infrared heaters work by converting electricity into radiant heat. Infrared is part of the electromagnetic spectrum.
Electric Kickspace Heaters – Kickspace electric heaters are recessed in under-cabinet spaces and provide supplemental heat where space is limited or where central heating cannot reach. Also known as toespace or toekick heaters.
Micathermic Heaters – A micathermic heater is a type of electrical space heater in which the heating element is covered by thin sheets of mica.
Ceramic Heaters – The principal difference between a fan heater and a ceramic heater is that it produces heat via a ceramic plate rather than a filament. This plate retains heat, so a ceramic heater produces more heat than a fan heater with filament.
Safe Space Heater Operation
Your electric space heater should only be used for its intended purpose. They are only meant to emit supplemental heat in relatively small spaces. Don't use them to warm sheets/blankets, cook, dry off clothes, or thaw frozen pipes.
Portable Electric Space Heater Safety Tips
The following tips will help you purchase and utilize a portable electric space heater in the safest possible way.
1. Is the Heater Tested?
Check the label before purchasing a space heater. The heater for your home should be listed by a reputable and qualified testing laboratory. You are looking for the UL mark from Underwriters Laboratories, the ETL label from Intertek, or CSA International certification.
2. Has Your Heater Been Recalled?
Search the Consumer Product Safety Commission's (CPSC) Safer Products site to see if your electric heater has been recalled. Find them at saferproducts.gov/
3. Prepare Your Home
Install smoke detectors and carbon monoxide alarms in your home and test them monthly. Change their batteries when necessary.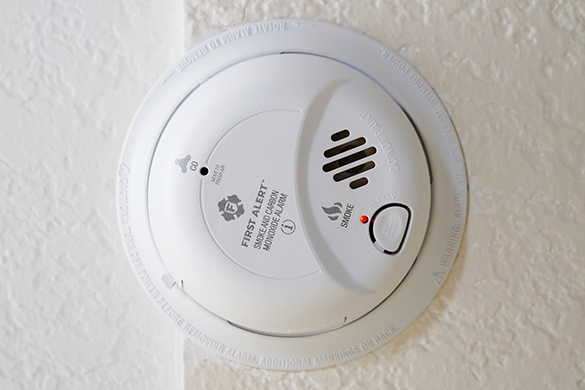 4. Frequently Inspect Your Heater
Inspect your heater, cord, and plug. If anything looks melted, deformed, frayed, or damaged in any manner, don't run it.
5. Heater Location
Place your heater on a firm, flat and stable surface, keeping it at least three feet from anything that could catch fire, such as throw pillows, furniture, or bedding.
Note: If you're operating your heater in a shop or a garage, be mindful of flammable items, including paint, gas cans, or exposed insulation and construction material.
6. Avoid Using Power Strips and Extension Cords
Plug your space heater directly into the wall outlet. Using a space heater with an extension cord or power strip could lead to overheating. Be certain the plug fits snug and is the only device plugged into that outlet.
Note: Prevent the power cord from resting anywhere with foot traffic and avoid running it under rugs, carpeting, or any furniture.
7. Avoid Contact with Water
To prevent short circuits and electrocution, always keep electric heaters at a distance from any water sources and never touch or hold an electric heater if you're wet.
8. Avoid Excessive Use
Operate your electric space heater during short periods and avoid letting it run throughout the night. Allowing them to run for an extended time increases the potential to overheat and end up malfunctioning or causing a fire.
9. Safety Features
When purchasing an electric space heater, consider the following:
A "tip-over switch" that shuts the unit off if it's not in a proper, upright position.
Automatic shut-off/Overheating protection that automatically shuts the heater down in case of overheating.
A programmable thermostat that monitors the room temperature, allowing the unit to turn on and off when the desired temperature is reached.
Tip: Before purchasing any electric space heater, ask for a demonstration of the heating unit's features.
Space Heater Safety
In this article, you discovered space heater information and common-sense safety tips to help you correctly operate one.
Correct operation and placement of a space heater will help you avoid its malfunctioning while keeping your space cozy and comfortable.
The improper operation of an electric space heater can result in electrocution, injury, or a house fire.
Sources:
energy.gov/energysaver/small-space-heaters
consumerreports.org/space-heater/space-heater-safety-tips-a1096367334/
geico.com/living/home/home-protection/space-heaters/
nfpa.org/-/media/Files/Public-Education/Resources/Safety-tip-sheets/PortableHeaterSafety.ashx
Visit https://www.homeandgardeningguide.com/repairs/heating-cooling/ for more heating unit articles, resources and how-to tips.